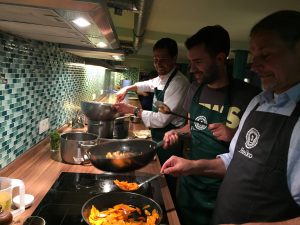 Damn, that was good! And not only the food.
It was a mild summer evening, when the first 5by5.kitchen took place  at the ATLAS Phoenix Hofkueche and startups and investors met to jointly cook a 5 course menu.
All participants had the opportunity to cook and eat together and along the way, get to know each other on a personal level. The idea of the concept worked out very well. Interesting, fun and Intense conversations started during the joint cooking and continued over dining.
Joel Kaczmarek of @DigitalKompakt was our Special Guest and showed his impressive cooking skills 😉 and made his very first Facebook Live video at 5by5.kitchen. Check it out here http://www.digitalkompakt.de/?s=5by5.kitchen
Big thanks to Matthias Lupp of Lupp + Partner http://lupp-partner.com/  a legal Boutique specialized on Private Equity, M&A, Venture Capital as well as Technology, Immovables and Sustainability for the generous sponsorship , which helped to make the event happen.
The Investors selected the following 5 Startups to participate:
Spottster
FitFox
YuScale
Sponsoo
NeuroFlash
Find here pictures of the pitching.
Are you hungry? Than you better stop continue reading our menu:
1. Goat cheese Ravioli with a tapenade from Olives and zucchini salad
2. Cocos Lemongrass Soup with Dim Sum of Swordfish
3. In Rice-Paper steamed filet from sea bass with green asparagus and tomato chutney
4. Filet from suckling pig with crispy crust, sauce bernaise, caramelized carrots and rosemary potatos
5.  Crème Brûlée with Ice Cream
Not only the menu was classy alos the Investors of 5by5.kitchen in Hamburg:
– Dirk Freise, Shortcut Ventures
– Dr. Heiko Milde, IFB Innovationsstarter
– Thomas Preuss, Deutsche Telekom Capital Partners
– Sarik Weber, Private Investor
– Claas Nieraad, New Commercial Room VC
Take a look at on the album of our event to get a impression of the great evening we had.
Link will follow soon.
Next up is Berlin. The initial date was fixed but the kitchen canceled our reservation. Because the upcoming holidays and Christmas events, it was impossible to find a new date in 2016 in Berlin. Therefore we are moving to February.
If you are interested in being part of this unique event. Apply on the Homepage of 5by5.kitchen.
Tristan